IJR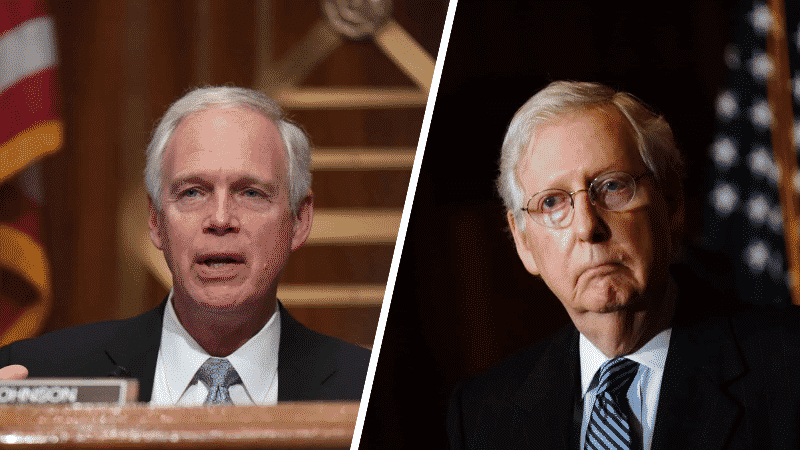 Senate Minority Leader Mitch McConnell (R-Ky.) says former President Donald Trump is "practically and morally responsible" for the Jan. 6 riot at the U.S. Capitol.
In remarks after he voted to acquit Trump on the charge of "incitement of insurrection," McConnell said, "There is no question that President Trump is practically and morally responsible for provoking the events of the day."
However, Sen. Ron Johnson (R-Wisc.) is arguing that McConnell's comments do not represent the views of the whole Senate Republican conference. 
During an interview on The Ross Kaminsky Show on Tuesday, Johnson said, "From my standpoint, Leader McConnell speaks for himself."
"In this case, I don't believe he speaks for the conference, and I think he needs to be a little careful," he continued.
He added, "You know when I speak, I do actually try and take in mind how it might reflect on the party."
Listen to the interview below:
The Senate voted 57-43 in favor of convicting Trump on Saturday. However, Democrats fell ten votes short of the required 67-vote majority to convict the former president.
While McConnell voted to acquit Trump, he did not hold back his criticism as he blamed Trump for the riot and suggested the former president is "still liable for everything he did while he was in office as an ordinary citizen."
The Kentucky senator's comments appeared to provoke Trump's anger as he released a scathing statement on Tuesday.
"The Republican Party can never again be respected or strong with political 'leaders' like Sen. Mitch McConnell at its helm… Mitch is a dour, sullen, and unsmiling political hack, and if Republican Senators are going to stay with him, they will not win again," Trump said.
He added, "[McConnell] will never do what needs to be done, or what is right for our Country. Where necessary and appropriate, I will back primary rivals who espouse Making America Great Again and our policy of America First. We want brilliant, strong, thoughtful, and compassionate leadership."
As reported by IJR. Continue reading this article at IJR
All news text, graphics, videos and multimedia content remain the copyrights of the credited original article publisher, in this case - IJR
Amnon Free Press is an American conservative news aggregator and publisher with a mission to publish the right news for the right American.
Contact Information: admin (at) amnonfreepress dot com